MANILA, Philippines – It is no secret that having women in top corporate positions makes good business sense in a country that ranked as ninth most gender-equal nation in the world.
Yet in a recent survey conducted by KPMG R.G. Manabat & Co. among the top 1,000 corporations, very few were led by women.
"Of the top 1,000, we contacted 770 and only 68 are led by women. Clearly there is a need for more. This was a disturbing statistic that drove us to pursue our advocacy for the advancement of women," noted KPMG Vice Chairman and FCC Founding Member Sharon Dayoan.
On September 15, a group of 43 female chief executive officers (CEO) in the country formally launches the Filipina CEO Circle (FCC) at the Shangri-La at the Fort, Manila. Formalized in 2015, the FCC is a young organization with members from across a broad range of industries such as business process outsourcing (BPO) companies, financial institutions, health, airline, real estate, information technology, automotive, FMCGs and advertising, among others.
FCC has made it its core mission to advance the status of women corporate leaders by providing a supportive resource where knowledge and skills to excel are shared through members' time, talent and network.
It works in partnership with industry experts such as the Asian Institute of Management, John Clements Consultants, Harvard Business Publishing and Zenger Folkman.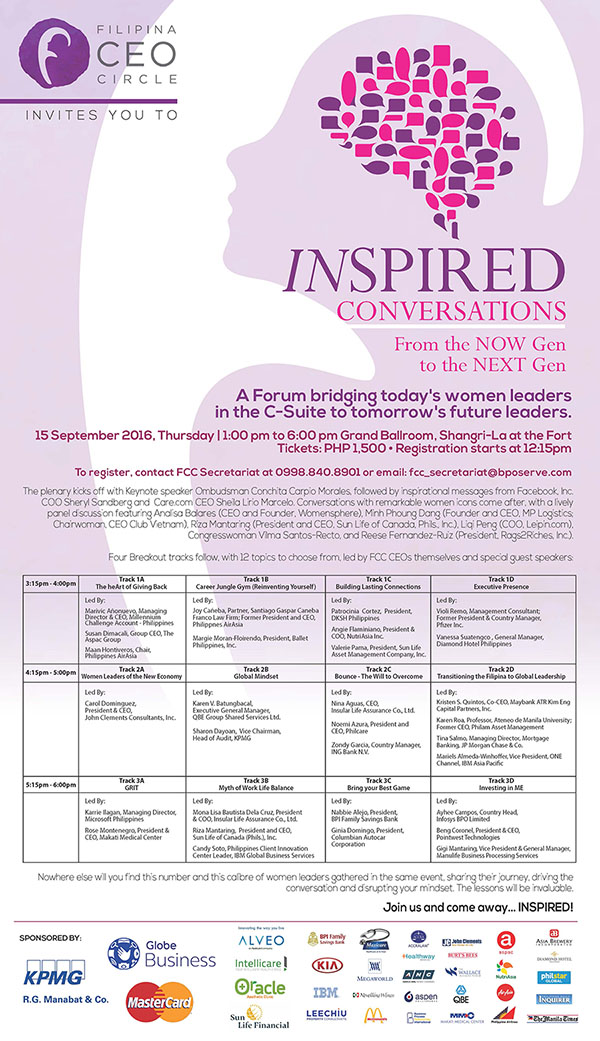 We hope to encourage the next generation of Filipinas in the workplace to maximize their full potential. It's our way of giving back, and hopefully by sharing our own experiences on the road to success, we can help other aspiring women leaders achieve their dream to reach the highest position in their respective companies. This was the inspiration when we first conceived of the organization," shared FCC founder and chair, Marife Zamora.
Over the past year, the FCC has participated in the Legacies of Women Forum in partnership with Global Summit of Women and AIM, supported the Solar Lola Project of the Diwata – Women in Resource Development, conducted Inspired Conversations in partnership with Technological Institute of the Philippines, at the BPO International's Future Leaders Conference, with IBM's equality and women empowerment agenda during International Women's Day, and in Infosys IBPO Philippine Women's Week Leadership Forum.
By far its most significant initiative, the FCC is hosting a forum entitled "Inspired Conversations: From the NOW Gen to the NEXT Gen" on September 15 where 1,000 mostly women managers are expected to attend.
This forum serves as a bridge from one generation of CEOs to the next, a gathering of 43 member CEOs and iconic women leaders, and 25 inspiring speakers who will tackle relevant issues facing working women today.
"Nowhere else will you find this number and this caliber of women leaders gathered in one event, sharing their journey, driving the conversation and disrupting mindsets. With topics as wide-ranging as Grit, Executive Presence, The heArt of Giving Back, and Women Leaders of the New Economy," said FCC President Cristina Concepcion.
FCC also unveils "Inspired," a collection of stories and life lessons of FCC's active members, an intimate look into their personal experiences.
"The stories are truly inspiring. What these women achieved: from the secretary's desk to the boss' chair, from sitting in front of a telephone board to conducting a meeting in the company boardroom, from a medical representative to a multi-awarded CEO of a global pharmaceutical company. It also includes a television personality who soared to become an airline CEO, and a beauty queen to lead a ballet company. Even a 'reluctant chief' shares her story candidly," said Susan Dimacali, FCC PR and Marketing head.
"FCC's vision is to gain respect and recognition as the voice of successful Filipina business leaders here and beyond Philippine shores," former Foreign Affairs Secretary Ambassador and FCC adviser Delia Domingo-Albert concluded.
DISCLAIMER: THIS CONTENT CAME FROM THE PHILIPPINE STAR